In the Otto von Habsburg Collection among the Hungarian secretariat correspondence a copy of a cover photo of Magyarság, a Hungarian newspaper, which depicts the bust of Crown Prince Otto, has survived. The bust, made by sculptor László Vastagh, was inaugurated in October 1925, 95 years ago, by the Circle of National Cohesion.
Bust of King Otto
The aim of the Circle was to enforce the state form of the apostolic kingdom, the Christian national idea, the ancient and characteristically Hungarian theory of the Holy Crown, the rights of the Holy Crown, and the foundations of our millennial constitution against all national, religious and moral attacks. Every year, the association held a gala dinner in honour of the Crown Prince.
After World War II the royalist Circle was disbanded. The contemporary papers did not report on the further fate of the association's Otto statue. While doing the research Dr. Judit Szeifert, Head of the Sculpture Department and Medal Library of the Museum of Fine Arts – Hungarian National Gallery, helped to get in contact with the manager of the sculptor's oeuvre, who was happy to tell the story of his work.
We know from him that László Vastagh modelled the Otto von Habsburg statue in 1925. The artist recalled the circumstances of the creation in his autobiography as follows:
"On 1 July, 1925 I set out for Spain to make a statue of Prince Otto. I spent a few days in Vienna and ten days in Paris. I arrived in Lequeitio on July 18th. While the prince was sitting still for his portrait, Benedictine teacher Job Bánhegyi read to him in Hungarian. The prince was twelve years old and spoke Hungarian well. Queen Zita greeted me twice: on my arrival and on farewell, when I introduced her to my work. I left for home on August 9."
The statue was moved to Tigris Street in Budapest during World War II, but the building was completely looted during the siege. About forty-five years ago, the bust was eventually moved from one of the stores of the Commerce Department to the manager of the sculptor's oeuvre.
The photo of the statue appeared in the 1989 Christmas issue of the Magyar Nemzet entitled "Advent Conversation with dr Otto von Habsburg". In 2004, the audience was able to see the work at the Ernst Museum, at an exhibition of the Vastagh family.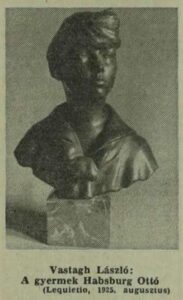 On behalf of the Foundation, we thank Judit Szeifert and the manager of the legacy for sharing the history of the statue with us, our request for borrowing the statue for a future exhibition was welcomed.
Tamás Sávoly